Everything you need to know about the theory, hazard perception and practical driving tests...
Theory and hazard perception come first
You can start you driving lessons before you pass the theory & hazard perception test. However, you must have passed it before the DVSA will let you apply for your practical test.
If you're not with ClickDrive, make sure your Instructor isn't wasting your valuable lesson time by parking-up and going through "Theory Test Training". This is a common way of padding-out lessons and is totally unnecessary.
For £9.99 (or less) you can buy the #1 selling set of CD Roms called "Driving Test Success (Theory Edition)", published by a company called Focus. These CDs replicate the actual Theory Test. They contain a full question bank (1,000 questions and answers). It also contains similar clips for the Hazard Perception part of the Theory Test, so that you can practice. In our experience it is extremely difficult to pass the Hazard Perception part if you've never practiced with the CDs. However, if you've used the CDs and put the work in, pass-rates are close to 100%. There are other CDs available from other manufacturers, some of which are better than others. We have no axe to grind, but we've found the CDs above to be the best.
You can buy "Driving Test Success" from most major booksellers, supermarkets, Halfords, Currys PC World etc. Or click the following link to buy via Amazon & have it delivered to your door!
Buy "Driving Test Success" from Amazon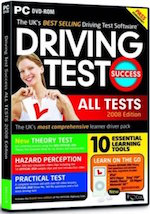 Getting a theory test booked
You will need a valid provisional driving licence to take your theory test. Once you've got that, you can book your theory and hazard perception tests online at Gov.co.uk and follow the links or by phone on 0870 0101 372. To apply by post call 0870 0101 372 or download a theory test application.
How the theory test works
The theory test is a 50-question multiple-choice test. To pass you must answer 43 or more questions correctly within 57 minutes. Questions are chosen at random from a bank of over 1,000 questions, and you answer by touching the screen. During the test you have the option to skip questions and return to them later.
How the hazard perception test works
Immediately after your theory test, you'll watch a series of 14 one-minute video clips, each showing potential hazards involving road conditions, pedestrians or road users.
There are 15 hazards to identify and you can score up to 5 points on each one, depending on how quickly you identify them. You need to score 44 out of 75 to pass.
The practical test
In your practical test, you have 40 minutes to demonstrate everything you have learned in your driving lessons.
You need to show you can drive competently and safely in all kinds of driving situations.
You'll be asked to do one of the 4 reversing manoeuvres you've practised with your instructor, and possibly make an emergency stop.
You'll be asked to drive independently for up to 20 mins either following directions from a sat-nav or road signs.
You'll also answer two vehicle safety check questions, one 'show me' question carried out whilst driving and one 'tell me'. question carried out at the test centre.
To pass, you will have to complete the test with no serious faults, and you must have 15 or fewer minor errors.
For more information about the test, please visit the official government website:
https://www.gov.uk/driving-test
Test Costs
The combined theory and hazard perception test as of the 20/9/17 costs £23.00
A weekday practical test costs £62.00. Evening or weekend tests cost £75.00.
Please note the above costs are what you pay the DVSA for taking their Tests. In addition you need to allow for an hour's lesson as a warm-up to get you settled for your Test, plus the actual hour of the Test. Those 2 hours are charged at the normal lesson rate.